Surface treatment chemicals Processing high corrosion-resistant coating by order
Siam YUKEN manufactures and distributes surface treatment chemicals. We also process high corrosion resistant coating, METASU YC, by order.
Surface treatment chemicals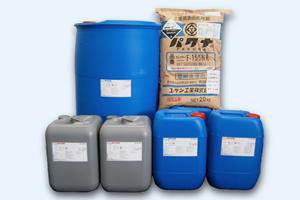 The surface treatment chemicals enhance the appearance and corrosion resistance of metal surfaces, and enable the coefficient of friction to be adjusted. YUKEN manufactures and distributes a wide range of surface treatment chemicals, such as cleaning agents, plating brighteners, passivation agents, conversion coating agents, corrosion resistant coatings, and surface treatment chemicals for electronics parts.
Pre-treatment products
Brighteners for zinc plating
Passivation agents
Coating products
Surface treatment chemicals for electronic parts
Other surface treatment products
Processing high corrosion-resistant coating by order

Zn-Al flake coating is a process designed to satisfy requirements of high corrosion resistance requested, for example, from automotive industry. Our unique coating is able to cover complex-shaped surfaces consistently, which leads to superb corrosion protection and highly resistant corrosion performance against scratch.