METASU YC process
High corrosion resistance is achieved by applying a zinc-aluminum composite rust-resistant coating, enabling the service life extension of key parts for our customers.
Superior consistent coating performance prevents recess-fill problems
The excellent wettability and thixotropic performance of METASU YC create consistent coating and greatly reduces recess of the head

Self-healing feature makes it resistant against scratch and maintain consistent high corrosion resistance
A unique formula and technology make it highly resistant to corrosion even when the surface is scratched or damaged.
SST (Salt Spray Test) SST mode : JIS Z2371 (ISO 9227 ; 1990 (MOD))
※ SST test is performed after an impact wrench is used for 3 cycles of "tightening and loosening"
Mechanism of corrosion resistance

Reference values for the specifications and corrosion-resistant performance which are selectable
Each corrosion-resistant performance can be tuned by selecting the processing conditions.
| 1C1B | 2C2B | 2C2B + 1T |
| --- | --- | --- |
| SST 500hr | SST 2,000hr | SST 3,000hr |
C:METASU YC-B (base coat)
B:Baking (baking)
T:METASU YC-T (top coat)
Various types of top coats for different coefficients of friction
A lineup of top coats catered for each automobile maker
Top coats lineup
| Product Name | Color | Coefficient of friction |
| --- | --- | --- |
| YC-T | Clear | 0.30 - 0.35 |
| YC-T20 | Blue | 0.18 - 0.22 |
| YC-T15 | Clear | 0.14 - 0.17 |
| YC-T08 | Red | 0.077 - 0.085 |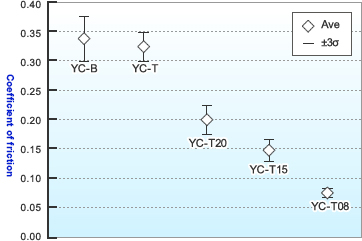 ※ Possible to adjust the coefficient of friction to outside of its range. Feel free to make an inquiry.
Fabrication process and production capacity
Production capacity: 22ton/month and 8h/day *production capacity is being increased sequentially
●Fabrication process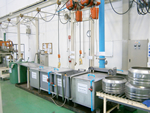 Cleaning line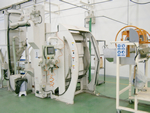 Short blast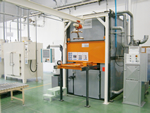 DipSpin(METASU YC-B)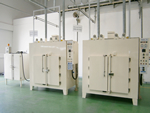 Baking(270℃, 30min)
Inquiry on customizable processing
Feel free to contact us if you have any queries regarding the specifications, delivery schedule and costs of the customizable processing.